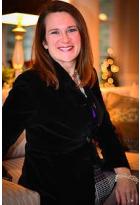 Butler,Personal Assistant,Property Manager,Household Manager,Estate Manager
Back to overview
Contact The Guild for further information
Natalie
⚜ ❈ ❈ ❈ ❈ ⚜How Can I Make Your Life Amazing Today? ⚜ ❈ ❈ ❈ ❈ ⚜
After 23 years in the Private Service Industry, my magic truly shines when your problems are solved before you know they even exist! I am based in Minneapolis, MN, USA and am happy to travel as needed. I was in my last position for 9.5 years.
Highlights of Recent Experience:
⚜ Maintained the highest level of service for a corporate/philanthropic family of four
⚜ Oversaw several distinctive luxury homes, ranging in size from 2,500-21,000 square feet
⚜ Administered the soft and hard sides of estate management: security; smart home technology; childcare logistics; cleaning; daily graces; guest care; entertaining; couture wardrobe; property and grounds maintenance; auto maintenance; travel arrangements; staff and vendor management
⚜ Project management of 12 renovation projects, and installation of Olympic-sized pool with pool house
⚜ Organized 2 large annual events, purchase of 3 properties and 4 luxury vehicles
6 Personality Strengths Employers Find Beneficial:
⚜ Curious, bright and outgoing personality
⚜ Strong sense of professionalism and expect the same from my team
⚜ Insightful - I see things many other people don't
⚜ Responsible and goal oriented - if it's humanly possible, I make it happen
⚜ Natural counselor, mediator, and confidant
⚜ High level of Emotional Intelligence, exhibited through: integrity, positive nature, flexible, resilient, self-managed, minimal drama, highly productive, empathetic, collaborative, and fosters strong relationships
My professional training and certification as a Butler, Estate Manager, Personal Assistant, and Concierge, is from The International Butler Academy.