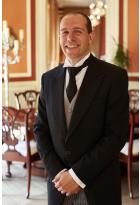 Butler,Personal Assistant
Back to overview
Contact The Guild for further information
Massimiliano Alberto
An Adaptable professional, trustworthy and resolute Assistant Manager who chose to join the private service graduating as a Butler at TIBA. After holding the position of Assistant Manager at the restaurant and the Assistant Front Office Manager at the reception of the family hotel, found further encouragement from the good reviews of many guests for dedication, to seek knowledge, skills and abilities as a Butler in the performance of providing excellent hospitality service to the guests.
Working at the family hotel focused on taking care of guests, anticipating guest needs, providing customized services, showing respect and courtesy at all times and interacting with guests making them feel one truly cares.
Demonstrated to work well in a Team gaining first experience as President of a non-profit organization (New Century Lions Club Roma Capitolium) in charge of setting priorities, assigning charity projects and delegating them, and motivating group Members.
Team work as Assistant Front Office Manager consisted in coordinating hotel activities by working closely with Housekeeping, Restaurant and others departments.
All these various fulfilling experiences developed good inter-personal communication and social skills.
In practicing as a Qualified Lawyer specifically in the field of labor law and debt recovery developed strong analytical skills, efficiency, sense of personal responsibility and the ability to work under pressure.
Also possesses practical approach to problem solving, with an ability to maintain a positive attitude, handle confrontation and respond to guest inquiries and requests as needed. All skills that would ensure significant value to any Company to achieve its goals.