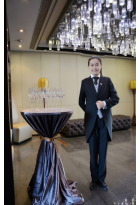 Butler,Hotel Butler
Back to overview
Contact The Guild for further information
Li
TIBA China Evaluation:
To whom it may concern,
Ms. Li attended a 6 week training session from May 25th to July 4th 2015 at The International Butler Academy China.
Besides her young age, Ms. Li is an energetic and powerful person. She showed much energy and passion during our 6 week butler training. Ms. Li has been a reliable student which has followed the teachers advice. She has been a active part of the training and showed an intense willingness to learn. Ms. Li often volunteered if extra work had to be done.
We at The International Butler Academy believe that she will be a valuable Butler in a private household. We support Ms. Li with our uttermost confidence and the knowledge that she will always perform according to our high standards.
Whomever this is reading and considering to hire Ms. Li, we can highly recommend her and are convinced that she will be a valuable asset to your family or company.
Please do not hesitate contacting The International Butler Academy China in case you have further questions,
Sincerely yours
Thomas.Kaufmann
Director of Training