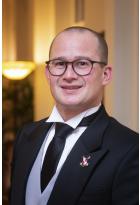 Butler,Personal Assistant,Gentlemans Gentleman,Valet,Chauffeur
Back to overview
Contact The Guild for further information
Wouter
Mr. Hooijer is a people person and always enthusiastic. With his kind personality he finds it easy to connect, finding common ground and forming a bond with people comes naturally to him. Mr. Hooijer is perfectly organized and therefore well prepared. He keeps his head calm when things run differently than expected. Mr. Hooijer can easily adept when he faces a problem or a new situation. With his problem solving and communication skills he will find a way to make things possible or find a solution.
Mr. Hooijer is a trustworthy person. In the past 20 years, he was the house keeper of a country house during the holidays of the owner. Including taking care of the dog, goats and pony's. One of his hobbies is horseback riding.
Mr. Hooijer has a lot of experience helping or serving people with extra high standards. For example during his work as a Manager at a car cleaning company for the luxury and classical segment. And because of his experience as a certified Executive Driver and Personal Assistant he is well aware of the needs of wealthy clients. These experiences has given Mr. Hooijer the insight to commit to another career path as a Butler that's totally in line with his passion: to serve the client in the best possible way.
Mr. Hooijer enjoys the fulfilment of doing hard work. Besides work, he likes to go the forest for a trip with his mountain bike. Or to go diving in the summer or to go skiing in the winter. Other passions are wining & dining, alone or with some of his many friends.
SKILS • Organized • Empathetic • Problem solver • Skilled communicator • Enthusiastic • Precise
ACTIVITIES AND PERSONAL INTERESTS Diving Mountain biking Skiing Touring with motorcycle Horseback riding Wining & Dining