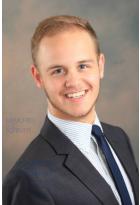 Butler,Estate Manager
Back to overview
Contact The Guild for further information
Taylor
My name is Taylor Anderson MacMann, I began my journey in the service industry 8 years ago as a banquet bus boy. As I matured through the industry I became a Captain for service staff, refining my skills in ultra fine Edwardian dining. At 19 years old I joined a highly respected Culinary Arts college in the Saint Louis area. Here I learned the ways of classic french cuisine, vegan cuisine, and garde manager. At the age of 21 I took a position as the Director of Operations for an event staffing company. In this role it is my job to educate and maintain service members' etiquette in the service industry.
Not only can I set a table and perform exceptional dining room service, I also have extensive knowledge on wine and liquors, bed linens, the mechanics of clothing, and staff management.
Growing up in a policeman's house I have always been a disciplined and regimented person. It has always been a belief of my family that a mile can open a door, but only work ethic gets you in.