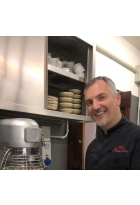 Personal Assistant,Chef,Household Manager
Back to overview
Contact The Guild for further information
Rosario
Dear
I'm Rosario Russo, an Italian chef.
I have 34 years of experience as a chef, 28 years in the hotel and catering industry and 6 years as a private chef in a private family.
I was born in Naples, I live in Umbria (Italy) for 25 years.
I have 17 professional cooking classes,
my cuisine is international, I am an expert in fish, meat, vegetarian and vegan cuisine, pastry, long yeast pizzas, and I am also a sommelier.
I am an expert in gardening, I like cooking natural and organic food,
I am looking for a private chef job, available to travel around the world,
To Reschio Castle where I worked for four years, I was also responsible for the house and all the staff.
At the moment, I am creating my new website (www.rosariorussochef.com) where I have put many pictures of my work. (obviously, the privacy of my employers will always be protected)
I am ready to try to prove my professionalism.
skype contact: rosario.russo17
https://www.instagram.com/rosariorussochef/
Umbria - Italy
+393481350625