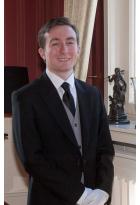 Butler,Personal Assistant,Gentlemans Gentleman,Valet
Back to overview
Contact The Guild for further information
Craig
Mr. Bremner believes himself to be a conscientious, mature individual with an eye for detail and the desire to continue to further develop his knowledge and skill-sets. Possessing a natural interest in people, he finds it easy to build rapport with both employer and colleague alike. No matter their cultural heritage, ethnicity or creed, he dedicates himself to respectful and dutiful service with integrity, passion and commitment.
Mr. Bremner is highly punctual, understanding the necessity to always be early. He takes pride in his work, recognizing the importance of the finer details in cultivating an overall experience. He considers delivering the art of service to be both incredibly rewarding and energizing, lending his abilities to both formal and informal settings, working alone or as part of a team, following strict protocol, or adding his own personal touch when appropriate.
As an extension of his Principals reputation, Mr. Bremner wishes to emphasize the importance he places on honesty, loyalty and discretion, maintaining a warm, friendly, yet professional demeanor. He takes great care of his appearance and manner, ensuring that he is always dressed in a manner appropriate for carrying out his duties at a moments notice.
Mr. Bremner has a deeply vested interest in classical music, the arts, culture, antiques, history and tradition. He is proud to call himself a butler, and looks forward to upholding the highest standards set by his next Principal.