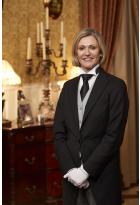 Butler,Personal Assistant
Back to overview
Contact The Guild for further information
Juliette
With over 10 years' experience in the yachting industry and many more in hospitality and gaming, Mrs. Marshall can manage many types of service. Her maturity helps her discern the needs of her guests very quickly, whether they like very formal, relaxed and easy-going, fast paced and fun, she can deliver.
Mrs. Marshall has trained many stewardesses and is still in touch with most of them, some of them now Chief Stewardesses themselves, who have called upon her for advice.
On Motor Yacht Kai, as part of the Diamond Collection through Fraser, Mrs. Marshall was very lucky to have organized and completed 2 intensive onboard training sessions with Triple SSS and the Warsach Academy. The Butler to the Belgian Royal Family stayed onboard and critiqued as part of the training. Mrs. Marshall found this very rewarding and inspiring and has integrated a lot of what she learned from him into her service style.
Mrs. Marshall attended an intensive 3-day course in England – "Introduction to Private Household Management" One of the lecturers was the head housekeeper to the Queen of England at Sandringham Palace for over 14 years.
Mrs. Marshall is sensitive to the needs of her guests, and believes every department should be treated as a customer in itself and if treated as such it can only lead to a tight and successful team.
Mrs. Marshall loves to travel, practice yoga and meditation. She is very interested in self-improvement through mindfulness and the study of neurology and how you can re-train your brain through changing your thought patterns and deliberate focus. She is a happy and motivated person who truly cares and respects her fellow human beings.
Not only a trustworthy, well trained and discrete candidate, but also somebody who proved during her training not only when she was student-head butler, to be firm, focused on her assignment and having a natural authority in a friendly way that makes other students listen to her.
Mrs. Marshall is open for this new opportunity in her life and deserves our highest recommendation knowing that she will be a worthful asset for every household and/or company..