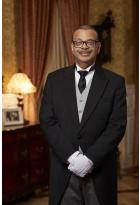 Hotel Butler
Back to overview
Contact The Guild for further information
Scott
At The International Butler Academy, Mr. Jackson stood out because of his personality and character, his eagerness to please and his overall professionalism.
He followed the rules and precepts of the Academy throughout and without fault. Mr. Jackson also showed his commitment to assist fellow students and staff when needed. He also worked well with others.
On various occasions Mr. Jackson was tested and evaluated. Every single time he succeeded.
Mr. Jackson's training at the Academy has readied him for a position in private service. He had to take the lead on several projects. He, like all students, had to become a butler and manage staff to perform various tasks at different functions. He has been taught to house manage, oversee household functions, clean and serve, develop working charts, and perform all duties when asked.
Though Mr. Jackson's experience has until now been in the public sector, he has acquired several skill sets that can be translated to the private sector. Both services look to please their superiors. They involve supervising from a few, to many people. They involve managing a budget. In variant degree, both demand discretion. Both are guided by rules and procedures.
Mr. Jackson is basically starting a second career. He believes that a butler position will be unique, challenging, and rewarding. He will have the technical training, plus the prior related experience to achieve his goal. He has the right personality and character traits required for a demanding Butler position.
His career so far is logical and makes sense. He is a professional and determined to succeed in whatever position he attains.