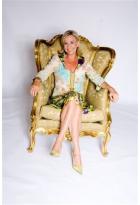 Butler,Personal Assistant,Property Manager
Back to overview
Contact The Guild for further information
Christina
Experienced Female Butler-Personal Assistant seeking a challenging position
Looking for a dynamic, versatile PA ? Search no further, because I am ready for the job.
I am Swiss-Danish ( EU Passport ), Residency in Australia.
I am currently looking for a rewarding and stimulating position, where I can acquire my professional skills, work experience and my strong academic background.