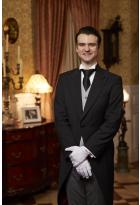 Butler,Gentlemans Gentleman,Houseman,Hotel Butler,Valet,Chauffeur
Back to overview
Contact The Guild for further information
Kyle
Mr. Ferdinando exceeds expectations in the role of butler. He adapts to change easily; works well under pressure with a positive attitude and is detail-oriented. Mr. Ferdinando goes beyond the call of duty by seeking out and following up on additional responsibilities, and contributes frequently to helping others.
Mr. Ferdinando Excelled as a server in a variety of fine-dining, casual-dining and entertainment venues. Earned top marks on performance reviews for service excellence; team player mentality; and proactive approach to improving processes, increasing revenues and resolving customer issues with expedience.
Mr. Ferdinando is an active listener, manages his time efficiently, demonstrates professionalism and is always conscientious about the quality of his work.