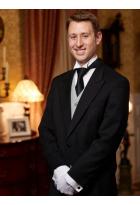 Butler,Household Manager,Estate Manager
Back to overview
Contact The Guild for further information
David
Being in the hospitality industry for over thirteen years, primarily in a luxury market, Mr. Wandrey has a passion for service and being in the private services industry.
Mr. Wandrey recently completed butler training at one of the most prestigious butler schools in the world, The International Butler Academy in The Netherlands. Through his training and hands on experience there, he has been trained in both the traditional style of butlering and the more modern age of butlering.
Prior to his schooling he was employed with a family in the Dallas, Texas area as a Houseman and Under-Butler. Although his time there was brief due to a household re-organization of staff and the position was found unnecessary, he gained a tremendous amount of experience and knowledge in estate management and his thirst for more knowledge brought him to join The International Butler Academy.
Mr. Wandrey was also employed with The Four Seasons, starting at Four Seasons Orlando, where he was part of the pre-opening team. He watched the resort flourish for two years before moving to Four Seasons Scottsdale. At both properties, he was a Concierge and was ready to take the knowledge and skills he learned at these properties and apply them to a new position. He is very accustomed and familiar with the distinguished client's expectations. He always strives to not only meet but exceed their expectations.
Mr. Wandrey worked for The Walt Disney Company for seven years and his time there taught him a great deal about the level of service, not only expected, but delivered to his distinguished guests. Being a VIP Tour Guide for The Walt Disney Company has exposed him to that personalized service that clients look for. It is the personalized service that sets The Walt Disney World Resort and The Four Seasons apart.
Mr. Wandrey is skilled in multitasking, has a strong attention to detail and adheres to standards set by any client or organization he works for. His efficiency and ability to problem solve any situation make him a valuable candidate in the private service industry.
Mr. Wandrey maintains a professional, confidential, courteous and calm demeanor while always anticipating a client's needs. His knowledge of wine, care for animals, and certifications and experience in life saving techniques help provide any household with the necessary understanding of attention and safety.
Mr. Wandrey is always communicating and partnering with other staff to maintain the highest level of performance and aiming for perfection when going out of the way to achieve a principal's total satisfaction.
Finally, Mr. Wandrey being well trained and educated in butling and estate management from the International Butler Academy, and knowledge of yacht and private plane management has equipped him with the necessary skills vital to making him a successful butler and estate manager.