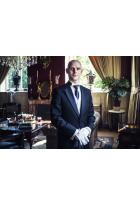 Butler,Personal Assistant,Hotel Butler,Household Manager
Back to overview
Contact The Guild for further information
Tim
Mr. Grafelmann stood out at The International Butler Academy because of his commitment,
teamwork and friendliness.
He is always on time and knows how to motivate his colleagues.
Among his instructors and fellow students Mr. Grafelmann is equally popular. He is used to working many hours and even in busy situations he stays friendly, calm and focused.
Mr. Grafelmann is learning quickly and knows how to implement his learned skills into practice. He knows how to convince with honesty and modesty.
Always Mr. Grafelmann has been utterly discreet and he shows that he knows what it means to be trustworthy in any situation.
In his attitude Mr. Grafelmann is like a professional Butler and what he does, he does it from the bottom of his heart.