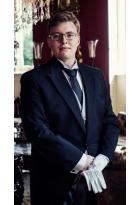 Butler,Hotel Butler
Back to overview
Contact The Guild for further information
Dorian
Mr. Fercot views himself as a good team manager, he is looking for the trust of his team by working with them, he wants to understand them and help them as much as he can. By doing the same duties as his colleagues, he wants to show them that he knows what they are doing and how hard this can be. He is not afraid by having dirty hands. He is a hard-working, precise and discreet butler who is ready to work more than he can to please his principle.
Mr. Fercot has experience as a sport trainer and he learned 2 years of management while he was in the university, so he can manage different types of persons by adjusting his attitude to the person he is talking to.
Mr. Fercot has try to succeed to the university but it was not for him, even if he stopped, he still have a good education, speaks two languages fluently and is participating to the intense program of The International Butler Academy.
Mr. Fercot does not have much experience in private service, only his formation experience but he really enjoyed this experience and know that butler is the perfect work for him. He wants to work in a private household so he can create a link between him and his principle but will still keep a boundary between them.