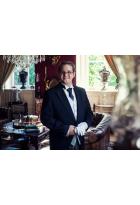 Butler,Gentlemans Gentleman,Valet
Back to overview
Contact The Guild for further information
Peter
Mr. McPherson sees himself as a person of high moral standing. He is service oriented in a way of truly caring about what he does, because he views it as the best thing to do. He is discreet, while also being helpful. He is always willing to work with people, as well as for people. His approach to management is to lead by example. He works hard every day because that's what is best for his employer, which ultimately is best for himself.
Mr. McPherson is a very well-rounded person. He has performed in stage plays, he has worked as a blacksmith, he has experience riding horses, motorcycles, and antique vehicles, and he is always willing to learn something new. After his tenure at a college for aviation, and attained his private pilot's license, he has always strived to better himself through further training. Whether his place of service requires someone to be familiar with art, to be able to train dogs, or to be a calming presence who is able to control his attitude in the most trying times, Mr. McPherson is first and foremost someone who will succeed, no matter the need.
Mr. McPherson enjoys serving. He has lived as met so many different people, and everyone he knows mentions how friendly and unabashedly sincere he is. He takes his can-do attitude and willingness to share happiness with him as a butler. He is seldom seen without a smile on his face, and a particular love of what he is doing. More important than anything to Mr. McPherson is to be able to love what he does, and as long as he puts effort into a project, it is impossible to stop him from enjoying himself and putting everything he has into it.