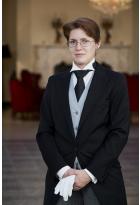 Butler,Household Manager
Back to overview
Contact The Guild for further information
Kimberly
Mrs. Umphress has many years of experience working with, and leading, large groups since she comes from a large family of fifteen members. From an early age her parents impressed on her the value and joy of serving others.
Mrs. Umphress views herself as a hard worker and flexible. Staying calm during stressful situations is one of her strong points. In general, Mrs. Umphress is a quiet person with a quick smile, and she tends to whistle or sing as she goes about her duties.
Mrs. Umphress has varying skills covering housekeeping, gardening, cooking, music, children, animal care and training (equines, canines, and various fowl). She has a valid USA driver's license, and has some experience with motorcycles and sailboats.
Mrs. Umphress is also currently teaching herself to speak French and Dutch, and hopes to add Arabic and Greek in the coming years.
Mrs. Umphress is married and has three children.