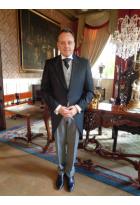 Butler,Property Manager,Household Manager
Back to overview
Contact The Guild for further information
Massimo
During the long period of time he stayed in the Bar American in Monte-Carlo he was very appreciated from the clientele for his availability, kindness and especially for the high quality and the dynamicity of the service.
He is now very experienced in anticipating guests' needs and has got the ability to answer queries and resolve concerns of the guests. Proficient in managing guest's services like food, drinks and ensuring cleanliness of the site.
He's a good planner for special events like aperitif, banquets, specials dinners, etc...
He has got the ability to stand for long hours and work in the graveyard shift. He views himself as hard-working, discrete, and flexible.
He's meticulous to details and has got the ability to multitask and he never stops working until the duties are well executed and completed. He is passionate to see the client happy and satisfied.
He is capable of dealing with various stressful situations and capable of managing and looking after an estate entirely.
Mr. Marocco has enjoyed a high degree of education and speaks three languages fluently.
Mr. Marocco is used to working alongside his employees, and managing them at the same time.
Mr. Marocco enjoys being a household/property manager, butler, he is now available to take on the position.