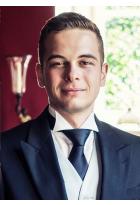 Butler,Personal Assistant,Gentlemans Gentleman,Valet,Chauffeur
Back to overview
Contact The Guild for further information
Robert
Mr. Beneš sees himself as person who truly has being a servant in his personality, as his education and work was always focused on hospitality. He has hardworking and positive attitude, ready to solve any kind of difficulty. His previous positions taught him how to remain calm and handle stressful and long days with ease. Mr. Beneš is more than happy to work within the team and has very good supposition to be a great leader and house manager.
Mr. Beneš find himself passionate in Asian culture and is doing well alongside colleagues coming from this and any other part of the world. He is very flexible and has understanding for every situation and personality, he loves to travel and is enjoying busy days. When he is in need of learning new language, he performs well.
Mr. Beneš would appreciate position of private Butler, taking care of one or multiple households, he is also able to manage yacht interior as he already experienced the pleasure of working on sea.