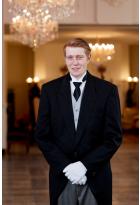 Butler,Personal Assistant,Gentlemans Gentleman,Valet,Chauffeur
Back to overview
Contact The Guild for further information
Marcel
Mr. Ahrens showed his trustworthy and honest character at the International Butler School and always worked productively and professionally, which was greatly appreciated by the teachers and students. His warm attitude caused a pleasant working environment.
On every occasion, Mr. Ahrens supported his students and teachers with a helping hand.
Mr. Ahrens can be placed, through his friendly and at the same time professional attitudes in formal as well as non-formal households. His open-mindedness and his quick perception, allow him to work quickly into work processes.
Through his accumulated experience in racing teams, Mr. Ahrens knows how important the communication and the discretion is towards the employer and the employees. So he was entrusted with sensitive information in the production technology and always knew how to secure it.
His personality, professionalism and his successful completion at the International Butler Academy give Mr. Ahrens the necessary tools to fill a demanding butler position in a private household.
Also in his new career, Mr. Ahrens will bring his passion, elegance and ambition.