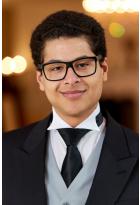 Butler,Hotel Butler,Chauffeur
Back to overview
Contact The Guild for further information
Luis Antonio Alexander
At the international Butler Academy, Mr. Rapp followed his tasks always with full attention. Mr.Rapp has always made sure that his tasks were done with another angle of view and Mr. Rapp was more than pleased that his fellow students appreciated this.
Mr. Rapp has always shown sincerity and respect to the formal private household and to his fellow students. Through his good body language, he has shown attitude and high performance which the teachers constantly appreciated.
Mr. Rapp was not only concerned about the smooth running of the formal household, but also the high quality of service and the satisfaction and well-being of each individual guest. No matter when Mr. Rapp has consistently served with the passion and prettiness the guests expected.
Under high pressure and stress Mr. Rapp always kept focused on the important things and concentrated. The international Butler Acadmy honored this achievement with a certificate.
Through his experience in housekeeping, Mr. Rapp has learned that tidiness and discipline come first. Among other things, he set up the cleaning schedules, daily schedules, weekly schedules etc. The cooperation with his fellow students was always important for him.
Mr. Rapp's future as a professional butler so far is very promising. He always works in the spirit of his employer and is willing to show his best in every situation.