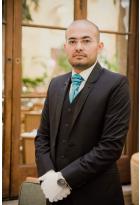 Butler,Personal Assistant,Gentlemans Gentleman,Property Manager,Hotel Butler,Household Manager,Estate Manager
Back to overview
Contact The Guild for further information
Mohammed
About MK.
MK graduated with a Bachelor's degree from the British Institute for Tourism and Hotels Management. He then obtained training in Steigenberger Hotel Taba and Hilton Alexandria. This training allowed MK to gain the full understanding of hospitality life and how to exceed the guest's expectations and felt confidant to enter the field of hospitality.
MK began his career in the Food and Beverage department with the Movenpick Hotels & Resorts in Sharm El Sheikh and the Hyatt Regency Sharm El Sheikh. He then proceeded to the Four Seasons Cairo at the First Residence where the idea of Butler service started, and he got Employee of the month with the first three months of employed by Four Seasons. This is where he found his passion for personalized service and working with VIP guests.
He moved to Kempinski Hotel Soma Bay, the first Kempinski hotel in Egypt to be part of the pre-opening team. There he transferred from the Food & Beverage Department to the Rooms Department. With the Rooms Department, he worked in the Front Office. Afterward, he moved to the Fairmont Hotels who were opening a second hotel in Egypt Fairmont Nile City. MK also was given the chance to start working with the pre-opening team as Gold Butler, which makes him one of the first Butlers team in Egypt. While there, he was trained as a Butler by Clarence McLeod Fairmont Gold Worldwide Director and one of the most professional Butlers in the world. MK became the Fairmont Gold first "Butlers Trainers," and was the first person to be nominated as Star of the Month from the Fairmont Gold Team.
After obtaining his Butler training, MK become the Head Wooster "Head Butler" and the first Butler in W Hotels by working at the W Hotel Doha. While working here, he was privileged enough to be a Butler for highly esteemed guests such as Ronald K. Noble, Kevin Spacey, Alain Ducasse, Kate Moss, Dylan Jones, Lord Denman, Vincent Cassel, Sergio Ramos, Dagmar P Heinke, Sheamus WWE, and many names from the Royal Family's and celebrities around the world.
In the position as a Head Wooster of W Hotel Doha and Gold Butler at the Fairmont Nile City, MK gained a thorough understanding of self-motivation as well as teamwork to deliver superior performance and to reach the highest levels of personalize guest services.
With the culmination of his vast experience, MK became the Managing Director, Co-Founder of YES AYS Lifestyle Hospitality and Head Butler at WoW Butler International. MK's parameter of expertise allowed him to create a company that trains and recruit's hospitality professional as well as offering private Butler training and services.
Testimonials from Prior Guests:
Hi, I'm Kevin Spacey and I'm just here to report to you that my stay here in Doha has been absolutely remarkable, the hospitality, the service and I have to say particularly MK who has taken care of me from the second I got here and has been at every event that I went to, an extraordinary, hardworking and great butler you should be all proud having him in your employment, and it's having been for me it's been a great thrill to finally get to Doha after they have been so supportive of the work we have done at the Old VIC, and I look forward to come back to the region many many times and hopefully MK will be here to take care of me again then… Thank you so much.
Kevin Spacey
In my time as INTERPOL Secretary General, during which I have visited 140 countries to date, I have never met any professional in any of the hotels in which I have stayed who was as responsible, dedicated, able and hardworking as Mr. MK. The way in which he took care of my family, and especially his patience with my father, who is not very mobile, touched me deeply. Everyone who had contact with him reinforced the very positive impression that I had of him.
Ronald K. Noble
INTERPOL Secretary General
Might just have the best butler service in the world
So when you come – and you should come soon – you should stay here. If you're lucky, rich or smart enough to stay in one of the Wow suites, you will probably be looked after by the faultless Butler MK. "We didn't want just a butler service," one of the managers told me. "We wanted the best" They've got it.
Dylan Jones
GQ Magazine London