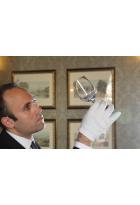 Butler,Gentlemans Gentleman,Property Manager,Household Manager,Estate Manager,Valet
Back to overview
Contact The Guild for further information
Simeon
In the 15 years since starting my career at Leeds Castle where I worked as Head Butler. I have gone on to work as an exclusive international Butler working in Castles, Shooting Estates, Super yachts and Palaces across Europe. In that time I have worked for "A" list Celebrities, Royalty, Dukes and Duchesses, Oil companies and Banks. Serving people such as: HRH The Princess Alexandra, Luciano Pavarotti and Tony Blair.
The Modern Butler can turn his hand to anything; from Grouse Shoot drinks in a bothy perched on a Highland mountain, to a 1000 guest formal wedding Breakfast in central Glasgow.
A Butler should never be confused with a Silver service waiter or a toast master. Yes any Butler working for Rosset Bespoke Butlers is an expert in these fields, but, the real difference is a Butler will look after every detail for you without needing to be asked.
I regularly Butler for Shooting Parties in Scotland, Society Weddings, Banquets, House Parties and large Corporate Events.
The service that myself and my team supply is always polished, always perfect and always 100% committed to surpassing the expectations of the client.