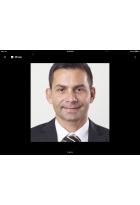 Butler,Personal Assistant,Property Manager,Estate Manager,Management Couple
Back to overview
Contact The Guild for further information
Pedro
Master graduate in hotel management from the Swiss Hotel Management School - Switzerland and with a bachelor degree in physical education, Pedro has experiences managing different departments of the hospitality industry in 5 star hotels and cruise liners.
Pedro offers an excellent customer services and leadership; additionally, the exposure working and studying in multi-cultural environments has given him the ability to work with many different types of people.
Fast in problem resolution and detailed oriented, The Swiss education has taught Pedro to be discreet always using diplomacy and common sense; furthermore, Pedro is Fluent in English, Spanish and Portuguese; in addition to that, he speaks intermediate level of Italian and French.