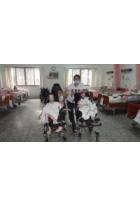 Personal Assistant,Nanny/Governess
Back to overview
Contact The Guild for further information
Marilyn
I am MARILYN From TAIWAN, a warm, loving, understanding and caring attitude. I desire to apply as a caregiver or a nanny. I am Filipino Citizen, 35 years of Age, Married. I have a 72units in College and I am Certified Caregiver, I am very Knowledgeable of caring an Elder and Children¡¦s, I have more experience of taking care of Elder and Children¡¦s (Infant, Toddlers and Children¡¦s with Special Needs).
My Current Job is a Caregiver at Annsun Hospital Nursing Home Center Taiwan, I started February 2011 to present. my duties and responsibilities are safety first, monitoring vital sign and effect, bathing, preparing nutrition meals and feedings (NGT, PEG Feeding) Elder and Child, medication on time, assist patient with ambulation and transport of motion exercises, and activity for their heart and good blood circulation.
My Previous Job was in Taiwan again 2009 to 2011 as a Caretaker, I taking care of Alzheimer Patient 75years old male and 2 kids 3yrs old girl and 10 years old boy.
I am very determined Worker, I serve my Employer with all my heart because they are my source to be able to support my Family.
I will perform well with my duties. I am looking forward to my Future Employers Considering my Application.
Thank You
MARILYN