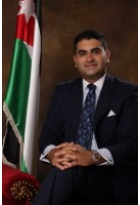 Property Manager,Household Manager,Estate Manager
Back to overview
Contact The Guild for further information
Ghaith
My understanding & knowledge for the hospitality Technics came from : People - Product - Profit
If we maintain to have the same level of service consistent which usually comes from people then our product will create a huge impact on our guests which will lead to a stable and consistent high profit.
I'm currently Responsible for the day to day rooms operation with insuring to deliver the best service as to reflect our culture and exceed guest expectations.
Insuring a proper communication channel between guest and hotel management to deliver the right service by reviewing all the communication methods such as trip TripAdvisor , hot email alerts , an internal guest satisfactory questioner that may evaluate our current service consistency and helps to increase our services strategies in term of people nor product to exceed our guest expectations.
Managing expenses is the safe key to a stable operational department , with having a proper controlling data to monitor the overall expenses figures according to the current business volume.
The property is based on one element that can show the efficiency of managing the hotel in the right way and that element is called ( GOP ) if the Gross Operating Profit shows high figures then the operation is been micromanaged efficiently.
To provide a good service you need to have a knowledgeable experienced staff since good service will be the right way to get business easily , to insure you staff are always updated in terms of service professionalism i usually provide them with quarterly training session which includes etiquette approaches , handling guest complains , product knowledge and many training sessions that could be improving their ability to stabilize the Technics for a better expectations and future success.
My own target in the hospitality field is to insure the best service delivered to all guests within the same level , we aim for profit and our profit depends on our customers satisfaction.