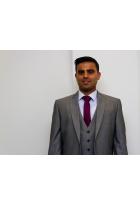 Butler,Personal Assistant,Houseman,Hotel Butler,Housekeeper
Back to overview
Contact The Guild for further information
Syed Toqeer Akram
I have enclosed copies of my resume and transcripts for your review. Before I began my career in the Domestic Service I worked as a car mechanic. This gave me the opportunity to form my technical skills and logical thinking but also to remain focused on problems until there are resolved.
Following this I pursued a career as a taxi driver. Whilst in this role I developed my inter-personnel and communication skills, which I believe will be transferrable to a role as your personal butler.
Whilst in this position I was required to be highly flexible and disciplined, with long periods of time staying concentrated and being able to adapt and react to uncertain situations. I am a fast learner, and work well under pressure.
I have also worked as a truck driver which has similarities to my role as a taxi driver, with the additional focus being on safety, including inspections of the truck and its load.
During my time at The International Butler Academy has furthered my knowledge of Butlering and has opened up a new world giving me the opportunity to develop myself. I believe I will learn a great deal more from you if I am allowed to provide you my personal service.