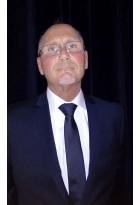 Butler,Gentlemans Gentleman,Household Manager,Valet
Back to overview
Contact The Guild for further information
Lars Rickard
Outstanding experience with strong organization, working in private service +5 years my role House Manager / Butler / Household management, working for Principal in Sweden, travel to multiple residence in Germany and France, Sweden and Norway with business trips in Europe.
Silver Service, the setting-up and coordinating of formal meals each day, planning and execution of any size of family functions/ events, platter to plate.
Maintenance wardrobe, wine cellar F&B- champagne- wine, flower arrangements, wardrobe- couture, packing- unpacking.
Excellent communication skills and computer literacy- Mac/PC, Microsoft certificates, silver service, multilingual ability to communicate in many countries.
House Manager and property / Butler role in Sweden specific and responsible for include:
*Overseeing and maintenance of property, responsibilities maintaining residence/house, cars.
*Working collaboratively and maintaining an outstanding rapport with all staff, dealing with contractors, handling tenants relations and vendors, contact-dealing with supply agents.
*Household management *Training-supervisor of households staff
*Management, supervision and training of various household staff
*Supervised events, planning, menus food-beverage for various family functions and catering.
*Event planning for any size of family functions/ event
*House account, budgets
*Chauffeur
*Food& health nutrition & diet, great knowledge in kosher, vegan, vegetarian.
*Personal trainer
*Travelling butler/pa
*The setting-up and coordinating of 3 formal meals each day, served silver service, platter to plate service.
I especially excel in:
Event planning and execution,
Luxury property maintenance,
Smart Home technology,
Personnel management & training,
Vendor management and negotiations,
Records/inventory management,
Microsoft Office, QuickBooks, Quicken,
Meal planning and preparation,
Executive travel arrangements,
Wardrobe maintenance,
Wine inventory and care,
Hospitality-Hotel / Restaurant +10 years, silver service, *Michelin, +Rosette in Greenland, Denmark, Sweden, Norway.
Working with ambassador of embassy U.S, France and Sweden, foreign office of Norway, Denmark and Sweden.
Royalties: HMQ Margrethe Denmark, HRH Crown Prince Frederik of Denmark, HRH Prince Henrik of Denmark, professor HRH Princess Chulabhorn Walailak of Thailand.
Certificates / Licences:
STCW95-Yacht,
ENG1-Yacht,
Hygiene & food processing certificate(Mortalin),
First aid,
Safety document,
EU drivers licence,
EU Passport,
Multilingual: English, Swedish, Danish, Norwegian, German, Spanish, and French.
Personal interests my kayak, MTB, trekking, sport/health nutrition & diet and passion of cooking cuisine French, Italian, Scandinavian.
Medical Specialist; able to provide onsite emergency medical support,