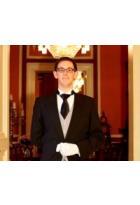 Butler,Household Manager,Estate Manager
Back to overview
Contact The Guild for further information
Samuel
Dear Sir or Madam,
If you visit the Butler's Guild website, you must be looking for a new staff member for one of your property.
Please, allow me to present myself and to give you some information about my personnality.
I view myself as a detail and service oriented person. I likes when everything looks perfect. From the table setting to the ironing or cleaning, I will make sure to attend your requirement. I am a good team worker and I prefer to work in a household were there is other employees. I believe to be capable of taking care of a full staff household and everything it represents. I am also a hard worker who is flexible about the schedule.
I am a pro-active and attentive person who will be please to meet and to surpass the needs and expectations of my futur principal and his guests. I am able to adapt myself for different occasions and my studies in Management Apply to Restaurant and Foodservices, my wine course at the Quebec's Institute of Tourism and Hotel Management (ITHQ) and my experience and education at The International Butler Academy give me a solid background to manage a household.
With my event planning and management background, I am well-trained to organize your private reception and to manage the budget of the household. Resourceful and independent, I support all the tasks to do and I am accountable for everything.
I started my own staff agency for private event while I was studying at the ITHQ so I am highly qualified to hire, trained and manage employees. With that business, I also develops my leadership and improves my management skills in event planning. I also cumulate experiences in different fields: customer services, cooking, dealing with catering and rentals companies.
My personal interest in gastronomy and wine and my different trips in various countries are an added value to my talents and skills.
I did a lot a volunteering with children with different organizations. So, if you have children I would perfectly be able to take care of them. I am alsos also able to take care of pets.
I am professional and determined to succeed in whatever position I will attains.
Kind regards,
Samuel