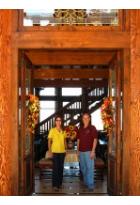 Domestic Couple,Management Couple
Back to overview
Contact The Guild for further information
Paul & Jessica
Dear Prospective employer,
Paul & I have worked together for over 16 years and are a compassionate, hard working, honest and very detail oriented team. We specialize in remote caretaking, property management and resort hospitality.
Currently we are a Domestic Couple providing on-site management for a remote 6 acre estate; handling all housekeeping, stocking, laundry, maintenance, landscaping, contractor management and equipment care for this 21,000 sq. ft. lake front property. This getaway retreat includes 12 bedrooms, media room, game room and large deck areas; all of which we keep pristine for the owner & their guests who typically visit Thursday thru Sunday.
Our employment history includes caretaking at a 12 acre educational facilityand a remote eco-resort. Additionally, we each have 20 years of experience in Architecture, computer drafting, Landscape, Interior design and remodel projects.
We have operated and maintained our own vacation properties including reservations, marketing, turn-over cleanings and stocking. We both have office management, retail store and computer experience. Paul is knowledgeable in a variety of handyman repairs/preventative maintenance including: carpentry, painting, plumbing, electrical, pool/spa/pond care and landscaping.
We are non-smokers, do not have children or pets and have a clean driving record/background check.
We have excellent references and you would not be disappointed in choosing us.
Thank you for your time and consideration,
Warm regards,
Jessica & Paul