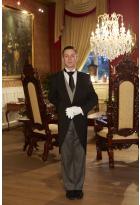 Butler,Personal Assistant
Back to overview
Contact The Guild for further information
Riccardo Alessandro
Mr Zinsli's knowledge exceeds the scope of his immediate area of operations and he is adept at translating his expertise into practice, which has been very beneficial for our company. He has very good planning skills and he bases his judgement on solid criteria, which is evident from the solutions he has proposed and their successful implementation. He always meets the goals we set up with him, a fact we gladly affirm. He finds and implements solutions even in the face of unanticipated challenges. His single-mindedness and goal orientation have helped him achieve these results.
We would like to underscore his high level of motivation and resilience. He can work independently, under his own authority, and he also generates high quality, demonstrates care and attention, reliability and diligence.
We are very happy with his performance. He is consistently helpful, friendly and loyal to his customers, superiors and colleagues.
His ability to analyse challenging issues and to vividly present them to his colleagues in order to motivate and lead them successfully cannot be emphasised enough. He consistently performs his executive duties and responsibilities with great competence.