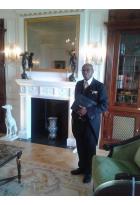 Butler,Hotel Butler
Back to overview
Contact The Guild for further information
Francis
OVERALL PROFILE: Cover Letter.
Francis started his career in the Hospitality Industry at a high level almost (18) years ago. He joined The Four Seasons Hotel in Manchester as a Room Service Waiter and was quickly promoted to management. In this Four (4) Star Hotel, his charm and attention for detail soon earned him a renowned reputation as he took over the helm of managing the main Bar Lounge whilst he was employed there.
In 1994 Francis moved to London and was engaged in furthering his experience in a number of highly respected Five (5) Star Hotels. The Athenaeum, The Mayfair Intercontinental and the Famous Connaught Hotel where he worked for five years as a Senior Butler of a twenty-nine (29) Butler Brigade.
During Francis profession, he has catered for the needs of many a great statesman and high profile celebrities gaining a much loved reputation for his work, through giving attention to detail and above all discretion. In 2008 whilst working for the famous Maybourne Hotel Group, Francis won a prestigious Award for Diversity, The C.I.P. Award which is one of the highest awards in the Maybourne Group of Hotels was awarded to him by the CEO himself (Mr. Steven Alden) for Francis work, both in Claridges and Head Office during a £70 million pounds refurbishment project of one of its' Mayfair Hotels.
Francis has also combined his other skills of photography and video production to his main profession whilst working on a Training Video for a well known Head Chef of the Athenaeum Hotel in London. Francis is a very highly skilled and intelligent worker as can be ascertained from his profile.