SATISFIED CUSTOMERS
Most properties catering to the elite traveller recognize the importance of service to their guests. Some properties have definitely made the connection between great service and the best advertising there is; word of mouth. Satisfied and happy guests tell their friends and others about their positive experiences.
HOW DOES GREAT SERVICE HAPPEN?
Great service begins with great attitudes among all the staff and others that come in contact with the international guest. Properties must commit to ongoing programs of excellence both in promise and delivery. Experienced, trained and professional service personnel are a key component of a first class guest service delivery system.
In today's global economy, one of the sources of great service talent at a reasonable salary cost is from India. The educational system for training and graduating quality hotel management professionals is excellent and on a par with top hotel schools in Europe and America.
Many of these individuals have not only years of school internship experience but solid service backgrounds gained at top hotels in India, Asia and the Middle East. Top properties in this part of the world often have extensive Butler service departments with quality training programs.
Only recently have some of these talented professionals been recognized in other parts of the world for what they are. Most of these Hotel Butlers speak English as a first language and the generally reflect and perform like that image of the traditional English Butler in terms of attitude and accent. Service is their mantra.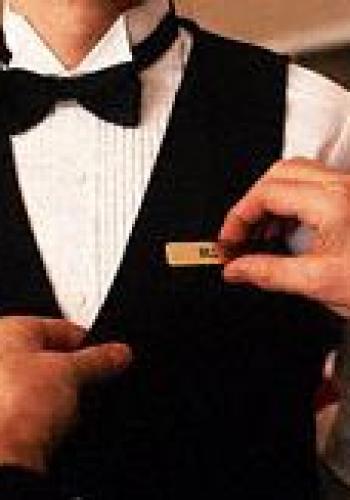 The International Guild of Professional Butlers represents a number of these talented Butlers. Many are currently employed and seeking to broaden their experience and at the same time to better themselves.
In parts of the world where political regulations are not restrictive, it can be very cost effective as well as being a potentially brilliant strategy to consider some of these individuals for higher level positions.
THE DISCERNING TRAVELER
Today, discerning travelers seek out hotels, resorts and hideaways in the far corners of the world. No matter where they go, there is always an expectation of good service and value for money.
THE BUTLERS
The Guild recognizes that hotel and resort butlers combine the skills of top hotel staff with the attention to personalized service that is the hallmark of a professional butler in private service.
We encourage the recognition that hotel and resort butlers are beginning to receive for their service and the consequent attention that their properties get from discerning Guests around the world. Attention to guests by experienced and trained butlers brings the hotel or the resort experience to a higher level of satisfaction and this can reflect in properties bottom line, not to mention the prestige that comes from providing world class service.