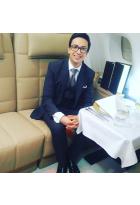 Butler,Personal Assistant,Hotel Butler,Household Manager
Back to overview
Contact The Guild for further information
Vinicius
Vinicius Viana, has an extraordinary resume that includes tenure at some of the world's most exotic destinations working with heads of state, billionaires and royalty.
Passionate about luxury lifestyle branding, service excellence and adding value through innovation.
Luxury and Lifestyle is constantly moving, this concept will be constantly up-dated.
• Brazilian citizen, native hotelier and part of the UNV for Humans Right.
•12+ years experience in: Airline, Luxury Hotels - Operations Management, Pre-opening, Re-branding, Task force, Concierge & Butler Services, CRM, ERP, and HNW & UHNW individuals.
•International multi-cultural experience - crossing three continents.