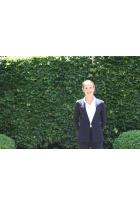 Butler,Personal Assistant,Property Manager,Household Manager,Estate Manager
Back to overview
Contact The Guild for further information
Emmanuelle
Dear Madam, dear Sir,
Professional, organized and with a permanent eye for details, I am seeking a butler or a personal assistant position.
My studies and experiences in hospitality and in yachting for VIP's with different international working teams completed my knowledge of service, wardrobe care and communication.
As a Butler, the importance of details, anticipation as well as appropriate manners under any circumstances for the family and their guests is essential to my lifestyle.
Travelling is part of my education and my professional background; It shaped my interests for new cultures, gastronomic cuisine and planning.
Ready for new challenges and new responsibilities worldwide,