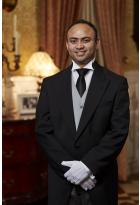 Butler,Gentlemans Gentleman,Hotel Butler,Valet
Back to overview
Contact The Guild for further information
Badar
Mr. Azim views himself as hard-working, discrete, flexible and service oriented person. Mr. Azim have been engaged in the private service industry for the past 6 years. He is capable of dealing with various stressful situations and capable of managing duties assigned to him.
Mr. Azim's experience as a Footman at The Royal Household Buckingham Palace was very fruitful, where he was taught how to serve the Royal Family in a Royal environment. He has had a good knowledge about how to set up a table with Silverware and dealing with priceless china and crystals E.g.; Edwardian China.
Mr., Azim loves serving to the guests at the table for a Lunch or a dinner. Mr. Azim was very fortunate to be a part of 3 State Banquet which was held at Buckingham Palace and Windsor Castle. Mr. Azim also was a part of Her Majesty's Sovereign Lunch on her Majesty's diamond jubilee in 2012. It was a life time experience for Mr. Azim to serve at such prestigious events. Mr. Azim used to Travel with other Footman's to Her Majesty's Summer and Christmas Residence. To refine more skills into valeting Mr. Azim went to work as a valet for his principal in Saudi Arabia where he had a great experience and knowledge about the Arabic clothing and managing His Highness's wardrobe. Mr. Azim worked alongside with His Highness's Private butler and experienced a great deal about a personal valet.
Mr. Azim has enjoyed a high degree of education and training for the service industry. His wish is for a lifelong dedication to Domestic Service. This dedication is a clear choice rather than by sheer chance. In future Mr. Azim would like to work with same Energy Passion and commitment, that he has been doing since. Mr. Azim truly believes The International Butler Academy has helped him to refine his butling/ valeting skills and the knowledge about private service industry.