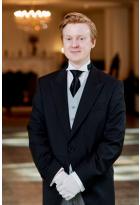 Butler,Hotel Butler
Back to overview
Contact The Guild for further information
Alexander
Mr Kargaard sees hilmself as a flexible, hard-working and service minded individual. When a problem occurs, he only sees it as a challenge to improve and impress. Mr Kargaard is used to handling various stressful situations, and is good at keeping an eye of things. Mr Kargaard is a proactive person and a problem solver – nothing is impossible. He believes his best qualities are that he is hard working, and trustworthy.
Mr Kargaard has been studying at Copenhagen Hospitality Collage, and at The International Butler Academy, and speaks Danish, Swedish, Norwegian and English. Danish and English is spoken fluently. Mr Kargaard wishes to dedicate his life to private service.
Mr Kargaard is a hard worker, and is used to working together with colleagues and employees. A great teamwork is important and crucial, in order to get the job done right, and Mr Kargaard is always ready to help colleagues and employees.