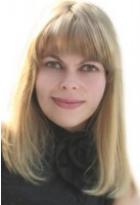 Personal Assistant
Back to overview
Contact The Guild for further information
Tatiana
+ Highly motivated, confident individual able to exhibit discretion, tact and professionalism when dealing with HNWI. My clients are my partners. When they engage my services, I provide them wealth of proven ability to help to make the best use of their time and resources.
+ I am a creative event planner and impeccable organizer with 10+ years successful experience. Leadership, extensive knowledge in varied industries, maturity, and intuition as are diplomacy, excellent communication skills, and a willingness to listen and to find solutions to the many challenges that arise throughout the course of any project.
Strong budgetary, projections and cost control skills, Detail-oriented, highly organized and efficient, Excellent team player, Strong negotiation skills, Outstanding communication in English, Russian & Dutch with some Polish & French and strong interpersonal skills, Performer in multicultural environment, Ability to work under pressure, Excellent time management skills, Outstanding work ethic, strict confidentiality and proven ability to work in self-directed environment, Competent and confident user of IT and social media tools, Initiative and quick problem-resolving creative thinker, Willingness to travel short notice internationally, Clean driving license.
I am seeking an opportunity to work alongside a busy individual in true right hand role with someone that requires a dedicated, trustworthy and discreet assistant who will go above and beyond required duties to make sure the job is done. Ideally based in South of France or Monaco.
My job satisfaction comes from being able to add true value and support in a position that puts me under extreme pressure. I enjoy building strong professional relationships and consider myself a loyal person.
Extremely flexible, easily contacted 24/7, without children and can travel worldwide at very short notice.
I am 34, 5'11, very presentable, well outspoken with impeccable manners.
Should you like to meet for a discussion or request a link to my video CV, please feel free to contact.